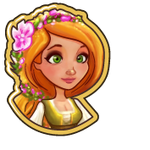 "You can use Harvest Wind to instantly harvest crops? Nature Magic is truly amazing!"
"The Winds of Change" is quest 8 out of 10 in the A Force of Nature questline. You get it from Yvette after completing "It's Always Sunny in CastleVille".
Tasks
Cast the Harvest Wind Spell 3 times to quickly harvest your crops.

Click the Spellbook button to cast Spells.

Have 5 Magic Words for your new incantations.

Ask Friends for Magic Words.

Consume 2 Vegetable Cocktails to put all the vegetables you have harvested to good use.

You can craft Vegetable Cocktails in the Kitchen.
Reward
"Wow, that worked like a charm! Wait, it's magic, so I guess it IS a charm!"
For completing this quest you will get

1,750 Coins and

35 XP. You can then proceed to the Preparation and Perspiration quest.

A Twister, a twister!
X is summoning a magical whirlwind in CastleVille!
Better get a Hammer and nail down your belongings in case something goes wrong.
Ad blocker interference detected!
Wikia is a free-to-use site that makes money from advertising. We have a modified experience for viewers using ad blockers

Wikia is not accessible if you've made further modifications. Remove the custom ad blocker rule(s) and the page will load as expected.