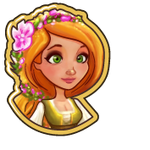 "Let's take a look in places you don't normally find bunnies."
"They're Everywhere!" is quest 2 out of 8 in the Hop To It questline. You get it from Yvette after completing "Like Bunnies".
Tasks
Fish 6 times in your Kingdom to see if there are Bunnies in the ponds.

Click on Ponds to Fish in them.

Collect 5 times from Crafting Buildings to see if there are Bunnies in there.

Crafting Buildings include Workshops, Kitchens, Studios, Party Pavilions and other places you craft items.

Use 3 Purity Talismans, Rifting Scepters, or Slime Dissolvers. Surely there aren't any Bunnies in there!

Craft Purity Talismans and Rifting Scepters in the Studio or Slime Dissolvers in the Kitchen.
Reward
"They're everywhere! Those poor dears aren't going to survive if we don't help them!"
For completing this quest you will get

3,250 Coins and

65 XP. You can then proceed to the Animal Shelter quest.
X is leaving no stone unturned.
You have to when looking for rabbits after all.
Help them out by taking some Stones home with you . It's less they have to look under.
Ad blocker interference detected!
Wikia is a free-to-use site that makes money from advertising. We have a modified experience for viewers using ad blockers

Wikia is not accessible if you've made further modifications. Remove the custom ad blocker rule(s) and the page will load as expected.