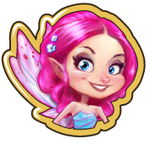 "While we wait for Alastair you should check on your Kingdom and make certain Hazel didn't do anything despicable!"
"Time To Focus" is quest 9 out of 12 in the Battle for the Portal questline. You get it from Sylphie after completing "Two To Go".
Tasks
Craft 1 Bubbly Grog to secure your crops against tampering.

This item can be crafted in the Kitchen.

Tend 10 Animals in your Kingdom in case Hazel may have bothered them.

Tend ready Animals in your Kingdom to feed them.

Use 1 Super Chop to leave nowhere for her to hide.

Choose a tree with the most chops left to get the most out of your Super Chop!
Reward
"Your Kingdom seems unharmed and Blaze still needs saving. I wonder if Alastair has deciphered the secret of the last Glyph?"
For completing this quest you will get

1,500 Coins and

30 XP. You can then proceed to the Without Restraint quest.

Hazel's up to no good...
The Duke saw Hazel wandering through the trees by your Kingdom!
Use this Spyglass to watch out for her!
Ad blocker interference detected!
Wikia is a free-to-use site that makes money from advertising. We have a modified experience for viewers using ad blockers

Wikia is not accessible if you've made further modifications. Remove the custom ad blocker rule(s) and the page will load as expected.