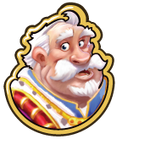 "Unicorn eggs only hatch when their shells are carefully coated in an ointment made of rainbows and unrelenting joy. Concoct a generous supply!"
"To Hatch a Unicorn" is quest 5 of 10 in the Eggstraordinary Evidence story line. You get it from The Duke after completing "Nest of the Unicorn" quest.
Tasks
Rainbows require water. Collect 10 Pails of Water.

Task description here...

Have 12 Berries. A sweet treat brings plenty of joy!

Task description here...

Glue is the perfect adhesive for our ointment. Craft 1.

You can craft Glue in the Studio.
Reward
"Is that roaring I hear coming from inside the egg?"
For completing this quest you will get

1,000 Coins and

10 XP. You can then proceed to the Hear Me Roar quest.

X is in a sticky situation!
Sometimes being gooey can be good! Especially when it includes rainbows and Marshmallows.
Here's some Honey, because you can never have enough Honey.
Gallery
Ad blocker interference detected!
Wikia is a free-to-use site that makes money from advertising. We have a modified experience for viewers using ad blockers

Wikia is not accessible if you've made further modifications. Remove the custom ad blocker rule(s) and the page will load as expected.