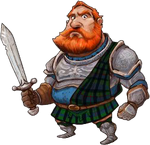 "If I must have a house, it should be something simple. But with a view... And a spacious kitchen... And maybe a den."
"Tom Homes In" is quest 2 of 10 in the A Dragon State of Mind story line. You get it from Tom after completing the "A New Resident" quest.
Tasks
Place the foundation of Tom's House in a nice spot.

Find the foundation to Tom's House in your Inventory.

Gather building materials and construct Tom's House.

Click on the Tom's House foundation to see what materials are required.

Collect taxes from Tom's House so he will feel like a contributing member of the Kingdom.

Click on Tom's House when it is ready to collect taxes.
Reward
"A warm fire, a soft bed... this is so much nicer than a drafty tent in the woods."
For completing this quest you will get

1,000 Coins and

20 XP. You can then proceed to the "Sleeping Like A Dragon" quest.
Tom has moved in!
Tom has moved in to X's Kingdom.
Come celebrate with them and take these Coins.
Gallery
Ad blocker interference detected!
Wikia is a free-to-use site that makes money from advertising. We have a modified experience for viewers using ad blockers

Wikia is not accessible if you've made further modifications. Remove the custom ad blocker rule(s) and the page will load as expected.