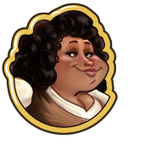 "I'm still not feelin' so hot after the Duke's cooking. I think I need a rest."
"Tossed Cookies" is quest 8 out of 10 in the How Sweet questline. You get it from Mia after completing "Love Hurts".
Tasks
Craft 3 Tomato Bisque Soups to soothe her stomach.

Tomato Bisque can be crafted in the Kitchen.

Craft 1 Bedding so she can have a rest!

Bedding can be crafted in the Studio after building a Tailor.

Chop 25 Trees to collect some firewood.

Click on a fully-grown Tree to chop it.
Reward
"MUCH better! Thank you, Sugar! I feel great! You really know how to play nurse, don't you?"
For completing this quest you will get

5,250 Coins and

105 XP. You can then proceed to the Home Sweet Home quest.
Facebook wall post message goes here
Ad blocker interference detected!
Wikia is a free-to-use site that makes money from advertising. We have a modified experience for viewers using ad blockers

Wikia is not accessible if you've made further modifications. Remove the custom ad blocker rule(s) and the page will load as expected.