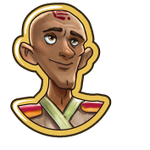 "Faugrimm must have transformed this old building because he saw it as a threat. Perhaps we can restore it and use its power against him."
"Tower of Gloom" is quest 9 out of 11 in the Faugrimm's Vacation story line. You get it from Alastair after completing "Volcano No More".
Tasks
Craft 8 Ropes to hold everything together.

Craft in the Workshop.

Have 6 Wood Planks to build a scaffolding.

Task 2 help text goes here

Rebuild the Tower of Gloom.

Gather the required items and click the Tower of Gloom to build it.
Reward
"Mount Gloom is no more! I can't wait to see the look on Faugrimm's face."
For completing this quest you will get

1,750 Coins and

35 XP. You can then proceed to the Why So Glum quest.
Returning the tower to power!
X has been restoring a tower that was in a volcano!
Not surprisingly they have plenty of Stones to give away.
Ad blocker interference detected!
Wikia is a free-to-use site that makes money from advertising. We have a modified experience for viewers using ad blockers

Wikia is not accessible if you've made further modifications. Remove the custom ad blocker rule(s) and the page will load as expected.