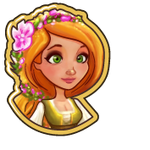 "Quinn seems a little nervous. We should do some things to take his mind off talking to Genevieve."
"Travel in Style" is quest 2 out of 13 in the To Woo a Maiden questline. You get it from Yvette after completing "Nice Ride".
Tasks
Click on Genevieve's Tower to let her know she has a visitor.

Genevieve's Tower can be found on the northwest edge of Amouria.

Go fishing 1 time in Amouria to help Quinn stay cool and calm.

Click on Ponds in Amouria to go fishing.

Use the Love Energy Distiller to get more energy in Amouria.

Craft a Love Diary in the Studio to use in the Love Energy Machine.
Reward
"Oh, I can't wait to see the look on Genevieve's face when she realizes that Quinn is here to make a love connection!"
For completing this quest you will get

1,000 Coins and

20 XP. You can then proceed to the Prep and Pep quest.
Amouria is for Lovers!
X travelled to scenic Amouria. What an adventure!
Visit beautiful Amouria, and you might find love too!
Ad blocker interference detected!
Wikia is a free-to-use site that makes money from advertising. We have a modified experience for viewers using ad blockers

Wikia is not accessible if you've made further modifications. Remove the custom ad blocker rule(s) and the page will load as expected.