"Part of raising a baby Dragon is showing them where it's okay to flame. But make your Regal Kennel fireproof just in case!"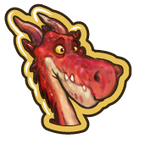 Trial By Fire
is quest 5 out of 11 in the
Little Bundle of Fire
story line. You get it from
Ember
after completing "
Domesticating Dragons
".
Tasks
Have 1 Regal Kennel to house your Pets.

Task 1 help text goes here

Place the Torching Post from your Inventory.

The Torching Post can be found in your Inventory under Decor.

Have 14 Piles of Sand to line the inside of the Kennel.

Fish in Ponds for a chance to find Sand.
Reward
"Now the baby will know: flames go on the torching post, NOT the curtains!"
For completing this quest you will get

1,750 Coins and

35 XP, as well as 1 Super Clobber. You can then proceed to the Play Date quest.

You can't fight fire with fire!
So X did the next best thing and fireproofed their Kennel.
Click for some of their flammable Wood Logs and get them out of the Kingdom!
Ad blocker interference detected!
Wikia is a free-to-use site that makes money from advertising. We have a modified experience for viewers using ad blockers

Wikia is not accessible if you've made further modifications. Remove the custom ad blocker rule(s) and the page will load as expected.