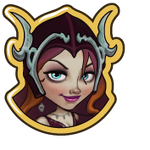 "You were right all along... Faugrimm is the sharp-dressed, wicked wizard of my dreams! Let's celebrate! No, really, where's the celebration?"
"Unbreak Her Heart" is quest 8 out of 8 in the Hazel's Heartbreak questline. You get it from Hazel after completing "The Dating Game".
Tasks
Cast Bird Dazzle 2 times to gather gems as a farewell gift for Hazel.

Click the Spellbook button to cast Spells.

Craft 3 Berry Scones for Hazel's celebration.

Berry Scones can be crafted in the Kitchen after building a Mill.

Prepare 2 Charm Gloom Rat Spells to keep practicing your magic!

Click the Spellbook button to prepare Spells.
Reward
"Thanks for letting me stay in your Kingdom while I was so upset. I'm sure it was no trouble at all!"
For completing this quest you will get

2,000 Coins and

40 XP.
Facebook wall post message goes here
Ad blocker interference detected!
Wikia is a free-to-use site that makes money from advertising. We have a modified experience for viewers using ad blockers

Wikia is not accessible if you've made further modifications. Remove the custom ad blocker rule(s) and the page will load as expected.