"First Stonehenge, then Faugrimm's attack... and now I find out that there are Dragons? This is too much excitement for an old Duke!"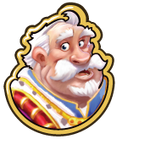 "Unhinged" is quest 8 of 9 in the
Stonehenge
story line. You get it from
The Duke
after completing the
Egged On
quest.
Tasks
Craft 6 Saucy Tarts to calm the Duke.

Craft Saucy Tarts in the Kitchen.

[[File:|75px]]

Make Stonehenge more powerful by rounding out the final shape!

Click on Stonehenge to construct the next stage
Reward
"Mmm, Saucy Tart... oh! You've almost finished Stonehenge!"
For completing this quest you will get

1,000 Coins and

20 XP. You can then proceed to the Altar State quest in the Stonehenge storyline.
X is balancing 2 jobs!
The Duke needs a Saucy Tart and X needs to finish Stonehenge!
Help out by giving Sugar for the Saucy Tarts.
Gallery
Ad blocker interference detected!
Wikia is a free-to-use site that makes money from advertising. We have a modified experience for viewers using ad blockers

Wikia is not accessible if you've made further modifications. Remove the custom ad blocker rule(s) and the page will load as expected.