"The Unicorn migration is under way! Tidy up your Kingdom. The more beautiful it is, the more joyful their migration will be!"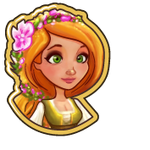 "Unicorn-u-copia" is quest 1 out of 10 in the
Unicornucopia
quest line. You get it from Yvette.
Tasks
Re-organize the Kingdom by moving 1 item. This will make it look tidier!

Enter design mode and select Move to move objecst.

Tend 1 Flower to make sure the Kingdom looks beautiful!

If you don't have any Flowers to tend, you can buy some from the Market.

Collect Taxes from 2 houses while you spread the news of the Unicorn Migration.

Click on ready Houses to collect taxes.
Reward
"Your Kingdom looks wonderful! I'm sure the Unicorns will appreciate having such a beautiful place to visit during their migration."
For completing this quest you will get

1,000 Coins and

20 XP, as well as 7 Unicorn Hair, 6 Wood Plank, and 3 Unicorn Punch. You can then proceed to the Party Like Unicorns! quest.

The Spirit Unicorn just visited X's Kingdom!
Do you see what I see?
Take this Spy Glass to get a better view!
Ad blocker interference detected!
Wikia is a free-to-use site that makes money from advertising. We have a modified experience for viewers using ad blockers

Wikia is not accessible if you've made further modifications. Remove the custom ad blocker rule(s) and the page will load as expected.