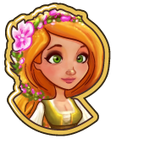 "I need to learn everything I can about Unicorns. Can you help me with my studies?"
"Unicorn 101" is quest 2 out of 5 in the Tending Unicorns questline. You get it from Yvette after completing "Unicorn Worship".
Tasks
Harvest 8 Carrots for Yvette. They will improve her vision.

Click on a Farm Plot to plant Carrots.

Craft 2 Mythic Monocles to help Yvette read the magical text.

Craft Mythic Monocles in the Studio.

Finish building the Sweet Inspiration.

Click on the Sweet Inspiration to finish it.
Reward
"Using that Mythic Monocle to read about magical Unicorns was very strange. My right eye feels smarter!"
For completing this quest you will get

1,750 Coins and

35 XP. You can then proceed to the Unicorn Comfort quest.
Facebook wall post message goes here
Ad blocker interference detected!
Wikia is a free-to-use site that makes money from advertising. We have a modified experience for viewers using ad blockers

Wikia is not accessible if you've made further modifications. Remove the custom ad blocker rule(s) and the page will load as expected.