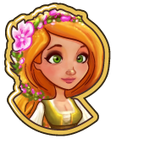 "Alastair wants us to help take care of the Unicorns! This is amazing! We should get started!"
"Unicorn Worship" is quest 1 out of 5 in the Tending Unicorns questline. You get it from Yvette during the Rearing Unicorns quest.
Tasks
Place the Foundation for the Sweet Inspiration so the Unicorns have something to feed from.

You can find the Sweet Inspiration in your Inventory.

Collect 6 Yellow Feathers to decorate the Sweet Inspiration.

Tend an adult Peacock to collect Yellow Feathers.

Have 5 Magic Dust to sprinkle into the Sweet Inspiration.

Ask your friends for Magic Dust.
Reward
"The Unicorns here are so special and magical. I want to stay with them forever!"
For completing this quest you will get

1,000 Coins and

20 XP. You can then proceed to the Unicorn 101 quest.
Facebook wall post message goes here
Ad blocker interference detected!
Wikia is a free-to-use site that makes money from advertising. We have a modified experience for viewers using ad blockers

Wikia is not accessible if you've made further modifications. Remove the custom ad blocker rule(s) and the page will load as expected.