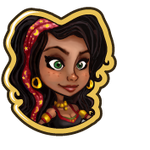 "Your Kingdom is way comfier than the cold Gloom, but I am SO ready for a VACATION! Will you help me plan my trip?"
"Vay-Cay" is quest 5 out of 10 in the Party Girl story line. You get it from Izadora after completing the "BFFS" quest.
Tasks
Visit Neighbors 5 times to plan Izzy's trip.

Click the Neighbor bar to visit Neighbors 5 times.

Prep for the trip by performing 25 Neighbor Actions.

Perform 25 Actions in a Neighbor's Kingdom.
Reward
Alright, we've looked around enough... I've got my trip all planned out. It's gonna be AWESOME!
For completing this quest you will get

1,000 Coins and

20 XP. You can then proceed to the "Perfect Pet" quest.

X is all Play and no Work...
At least when fun-lovin' Izzy is involved.
Bask in the light of some gold Coins... they're Izzy's favorite color!
Gallery
Ad blocker interference detected!
Wikia is a free-to-use site that makes money from advertising. We have a modified experience for viewers using ad blockers

Wikia is not accessible if you've made further modifications. Remove the custom ad blocker rule(s) and the page will load as expected.