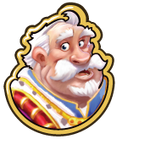 "Oh no, Beasties are in my Kingdom! Please come to my aid - I can't handle them without you!"
"Visiting Heirs" is a tutorial quest.
Tasks
Quest Image
Task
Skip

Visit your new neighbor the Duke.

Click the Neighbor Bar to Visit the Duke. Click on animals in the Duke's Kingdom to help him.

? Crowns

Help the Duke in his Kingdom.

Visit the Duke and banish the Beastie in his Kingdom. Perform any 5 tasks while visiting the Duke to help him.

? Crowns

Earn 5 Reputation by helping your new neighbor.

Help neighbors to earn Reputation.

? Crowns
Reward
For completing this mission you will get 500 Coins and 4 XP.
"Thanks for your help! With every Kingdom working together, we can stop the Beasties and the Gloom!"

X just rescued the Duke!
X is gaining experience by beating up bad guys in CastleVille.
Join the good fight and get some free XP.
Ad blocker interference detected!
Wikia is a free-to-use site that makes money from advertising. We have a modified experience for viewers using ad blockers

Wikia is not accessible if you've made further modifications. Remove the custom ad blocker rule(s) and the page will load as expected.