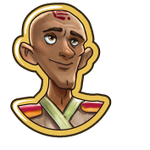 "Sonja's Favorite drink should give the Cleansers the extra kick we need to break through the last layer of Mount Gloom."
"Volcano No More" is quest 8 out of 11 in the Faugrimm's Vacation story line. You get it from Alastair after completing "One More Slime".
Tasks
Have 7 Walks on the Beach, Sonja's Favorite Drink. It can melt ANYTHING.

Ask Friends for Sonja's Favorite Drink or Skip for 49 crowns.

Fish 12 times, we will need some and soon.

Click on the Fishing Pond to fish or Skip for 24 crowns.

Cleanse the last layer off of Mount Gloom.

Gather the required items, then click Mount Gloom to cleanse it.
Reward
"Who would have thought that Faugrimm could form a devastating volcano from the ancient building?"
For completing this quest you will get

1,000 Coins and

20 XP. You can then proceed to the Tower of Gloom quest.
Facebook wall post message goes here
Ad blocker interference detected!
Wikia is a free-to-use site that makes money from advertising. We have a modified experience for viewers using ad blockers

Wikia is not accessible if you've made further modifications. Remove the custom ad blocker rule(s) and the page will load as expected.