"Faugrimm must have cought on to our Beastie Lab - his minions are headed this way in full force! We need a Weapon of Mass Beastie Destruction!"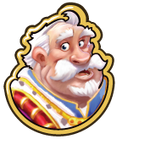 "WMBD" is quest 8 out of 8 which you get from
The Duke
during the "When Beasties Attack" quest line. It immediately follows the
Secret Ingredient
quest.
Tasks
Have 15 Alchemist Powder to make the Beastie Bomb.

(crafted in the Beastie Laboratory or acquired from helping out in Neighbors' Kingdoms)

Visit 10 Neighbors to warn them about the noise.

Use the Beastie Bomb to Banish all the Beasties in your Kingdom.

(found by clicking on the Go to Inventory button in the quest window or under the Consumables tab in the Inventory)
Reward
"What a blast! Those Beasties don't know what hit them!"
For completing this mission you will get

2,500 Coins and

50 XP, as well as 1 Blue Cauldron (found under the Decor tab in the Inventory).
Ad blocker interference detected!
Wikia is a free-to-use site that makes money from advertising. We have a modified experience for viewers using ad blockers

Wikia is not accessible if you've made further modifications. Remove the custom ad blocker rule(s) and the page will load as expected.