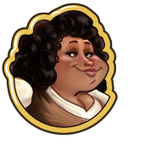 "You know what would really put your Kingdom in the Halloween spirit? A Haunted House and a big ol' Pumpkin patch!"
"Wanted: House" is quest 1 out of 5 in the
Halloween Treats
questline.
Tasks
Quest Image
Task
Skip

Place 1 Haunted House in your Kingdom.

The Haunted House is in your Inventory.

? Crowns

Plant 8 Pumpkins for Halloween decoration.

You can plant Pumpkins in any empty Farm Plot.

? Crowns
Reward
For completing this mission you will get 1,000 Coins and 20 XP. In this goal you get 1 Scarecrow Hat as a reward.

| | |
| --- | --- |
| Previous Goal | Next Goal |
| This is the first goal. | It's a Tarp! |
"Now won't the trick-or-treaters be tickled pink to see your new Pumpkin patch?"

A Spooky New House
X is building a Haunted House!
Here's some wood to get you started.
Ad blocker interference detected!
Wikia is a free-to-use site that makes money from advertising. We have a modified experience for viewers using ad blockers

Wikia is not accessible if you've made further modifications. Remove the custom ad blocker rule(s) and the page will load as expected.