"It takes a lot of practice to master a recipe, but the rewards are super sweet! Let's start with a Saucy Tart."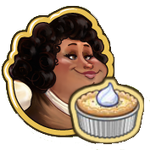 "What A Tart!" is quest 3 out of 10 in the
Get Cooking
story line. You get it from
Mia
after completing "
Bakin' Bits
".
Tasks
Have 15 Eggs - you're going to need them!

Feed adult Chickens for a chance to collect Eggs.

Reach Mastery Level 1 for Saucy Tarts by crafting them 10 times.

Craft in the Kitchen.

Collect 10 Pails of Water for boiling... or putting out fires.

Go fishing for a chance to collect Pails of Water.
Reward
"When you master Level 1 on a craft, the cooking time for that recipe decreases by 10%!"
For completing this quest you will get

1,750 Coins,

35 XP, 1 Kissing Booth (Female) and 1 Kissing Booth (Male). You can then proceed to the Flour Power quest.

X passed the first taste-test!
X mastered their first cooking craft!
Congratulate X and get some Reputation!

Ad blocker interference detected!
Wikia is a free-to-use site that makes money from advertising. We have a modified experience for viewers using ad blockers

Wikia is not accessible if you've made further modifications. Remove the custom ad blocker rule(s) and the page will load as expected.