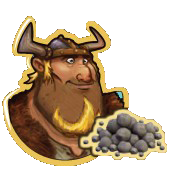 "Gather up supplies to help save poor Skippy from a watery fate."
"What Also Floats?" is quest 5 out of 6 in the A Pet For George quest line. You get this quest from George after completing Proper Care .
Tasks
Have 8 Rope. Have 8 Rope to make sure you have enough to reach the bottom of the Pond.

Craft 4 Leather. Craft 4 Leather to make a harness to help you pull Skippy out of the Pond.

Craft in the Leather in the Studio.

Click on a Pond 10 times.Click on a Pond 10 times to go swimming and find Skippy!

Tend your Pond to go swimming and see if you can retrieve Skippy.
Reward
"Oh, you found him! Skippy, I was so worried, are you okay? Let's get you dried off."
For completing this quest you will get

500 Coins and

10 XP. You would also be able to start the Good Night Skippy quest.
Ad blocker interference detected!
Wikia is a free-to-use site that makes money from advertising. We have a modified experience for viewers using ad blockers

Wikia is not accessible if you've made further modifications. Remove the custom ad blocker rule(s) and the page will load as expected.