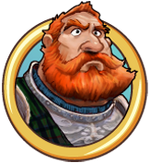 "Banishing Gloom Dragons will increase your Renown almost as quickly as Goblin tipping. Let's get started!"
"What I Do Best" is quest 1 out of 4 in the A Knight's Tale story line. You get it from Tom during the Myrick's Flask quest.
Tasks
Quest

Goals

Banish 1 Gloom Dragon using Myrick's Flask.

Activate Myrick's Flash to banish a Gloom Dragon.

Get 1 Gloom Dragon Potion.

Craft a Gloom Dragon Potion in the Beastie Lab.
Rewards
"As you build Renown, you'll discover that people will just... be nicer to you because you're famous. It's fantastic!"
For completing this quest you will get

1,500
Coins
and

30
XP
. You will then be able to start the
A Knight's Trial
quest.
X is banishing Gloom Dragons!
X hopes to impress Tom with this Knight skills.
Grab some free Stone just in case the Gloom Dragons get too close.
Ad blocker interference detected!
Wikia is a free-to-use site that makes money from advertising. We have a modified experience for viewers using ad blockers

Wikia is not accessible if you've made further modifications. Remove the custom ad blocker rule(s) and the page will load as expected.