"Oh my! Too much excitement! Can't speak... Need to calm down."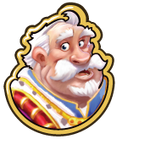 "Who's Coming" is quest 1 out of 10 in the Spread the Love story line. You get it from
The Duke
.
Tasks
Collect 5 Bottles of Milk. Get them while they're nice and warm to soothe the Duke.

Click on hungry adult Cows to gather Bottles of Milk.

Fish 3 times in your Kingdom to relax the Duke.

Click on the Fishing Pond to fish.

Bore the Duke by taxing 4 houses in your Kingdom.

Click on Houses to tax them.
Reward
"I can't believe SHE's coming here! Mia, the famous Royal Chef is coming to your Kingdom!"
For completing this mission you will get

500 Coins and

10 XP, as well as 25 Pink Laces. You can then proceed to the Spread the Love quest.
The Duke is so excited!
And he just can't hide it! X is giving him some warm milk to calm down.
Get a Bottle of Milk for yourself, too!
Gallery
Ad blocker interference detected!
Wikia is a free-to-use site that makes money from advertising. We have a modified experience for viewers using ad blockers

Wikia is not accessible if you've made further modifications. Remove the custom ad blocker rule(s) and the page will load as expected.