"Let's take a closer look at these magical Wisps. But be careful - we don't know if they're dangerous!"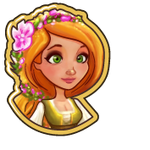 Wisps
is quest 1 out of 9 in the
Brave
story line. You get it from
Yvette
. This time-limited quest line was introduced on June 7th 2012 to promote the Disney movie
Brave
.
Tasks
Investigate the mysterious blue Wisps by clicking on them.

Click on a Wisp to investigate it. Are they here because of Fate or Luck?
Reward
"Oh, my! it looks like someone is following the Wisps... straight into our Kingdom!"
For completing this quest you will get

500 Coins and

10 XP. You can then proceed to the Meeting Merida quest.

What are these Mysterious Wisps?
X investigated some mysterious Wisps that appeared in their Kingdom!
Has Fate brought Wisps to your Kingdom?
Ad blocker interference detected!
Wikia is a free-to-use site that makes money from advertising. We have a modified experience for viewers using ad blockers

Wikia is not accessible if you've made further modifications. Remove the custom ad blocker rule(s) and the page will load as expected.