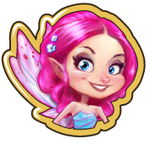 "We must center ourselves and keep our tempers in check! Only Serenity can destroy the Glyph of Wrath!"
"Without Restraint" is quest 10 out of 12 in the Battle for the Portal questline. You get it from Sylphie after completing "Time To Focus".
Tasks
Craft Elements of Serenity to break the Glyph of Wrath.

This item can be crafted in the Workshop.

Fish 10 times to relax by the tranquil waters.

Fish by clicking on your Pond.

Destroy the Glyph of Wrath.

Craft 6 Elements of Serenity then click on the Gloom Contraption to destroy it.
Reward
"You did it! Blaze is free from his prison! Faugrimm's plans have been foiled!"
For completing this quest you will get

3,250 Coins and

65 XP. You will be introduced to Blaze, and can then proceed to the Attack of the Clone quest.
Don't be mad...
But the Glyph of Wrath is broken! Blaze is free!
Cool your temper with a Pail of Water.
Ad blocker interference detected!
Wikia is a free-to-use site that makes money from advertising. We have a modified experience for viewers using ad blockers

Wikia is not accessible if you've made further modifications. Remove the custom ad blocker rule(s) and the page will load as expected.