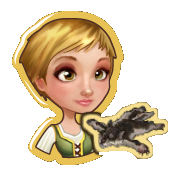 "If we disguise the sleepy Sheep as Gloom Wolves, maybe the pack won't attack! They should be in their dens anyway."
"Wolves' Clothing" is mission 9 out of 13 in the Inn and Out story line. You get this mission from Kathleen after finishing the Sleep Tight mission.
Tasks
Quest

Collect 10 Carrot. Have 10 Carrots for Kathleen to chew on. She's a nervous chewer.
Harvest Carrots from Farm Plots.

Collect 3 Wolf Hair. Collect 3 Wolf Hair to help disguise the Sheep.

Bash Gloom Wolves for a chance to find Wolf Hair.

Collect 6 Gloom Wolf Pelts. Ask friends for 6 Gloom Wolf Pelts to make the disguises believable.

Ask your friends to give you Wolf Pelts. You can also get this from fishing.
Reward
"The disguises scare the Sheep, but I don't know if the Gloom Wolves will be fooled."
For completing this mission you will get

1,750 Coins ,

35 XP and 1 Energy Potion. You would also be able to start the On The Hunt (Kathleen) mission.

Sheep in Wolves' clothing?
X was trying to fool some Beasties by dressing up some Sheep to look like Gloom Wolves.
Feeling brave? Get some Gloom Wolf Hair and try to trick yourself!
Ad blocker interference detected!
Wikia is a free-to-use site that makes money from advertising. We have a modified experience for viewers using ad blockers

Wikia is not accessible if you've made further modifications. Remove the custom ad blocker rule(s) and the page will load as expected.