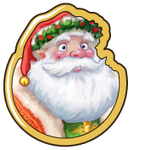 The 2nd of 10 missions in the Winter Vacation quest chain obtained from Kris Kringle. It immediately follows the South for the Winter mission.
Quest Text
With my sleigh out of commission, I'll need another mode of travel. Maybe we can modify the Gift-A-Pult to launch me!
Tasks
Quest
Goals

Modify the Gift-A-Pult.

Tips: Click on the Gift-A-Pult to make some adjustments. Materials: 5 Wood Planks, 10 Stones.

Launch Kris Kringle from the Gift-A-Pult.

Tips: Once you have modified the Gift-A-Pult, click it to launch Kris Kringle.
Reward
Whoa-ho-ho! Something isn't quite right. Look out below!
For completing this mission you will get

750 Coins,

15 XP and 1 Snowman Guard. You will also be able to start the Red Hat Down mission.
Ad blocker interference detected!
Wikia is a free-to-use site that makes money from advertising. We have a modified experience for viewers using ad blockers

Wikia is not accessible if you've made further modifications. Remove the custom ad blocker rule(s) and the page will load as expected.