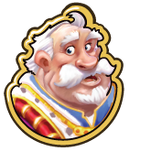 In my dream, the Baby Duke Bar got even better as we smothered it in salsalito sauce and sandwiched it between two Chocolate Bars!
"Wrapped in Chocolate" is quest 3 out of 5 in the Baby Duke Bar quest series from The Duke
Tasks
| | |
| --- | --- |
| Quest | Goals |
| | Have 1 working Mill to expand your cooking recipes. |
| | Have 8 Bottles of Milk so you can make chocolate bars. |
| | Craft 2 Chocolate Bars to make the Baby Duke Bar extra delicious! |
Reward
This glorious combination of savory and sweet isn't truly the Baby Duke Bar yet! We have one last thing to do.
For completing this mission you will get

3,250 Coins and

65 XP.
Then, Quinn will appear and give you his own quests. Once you complete them all, you will be able to start the Fry Anything mission.
Ad blocker interference detected!
Wikia is a free-to-use site that makes money from advertising. We have a modified experience for viewers using ad blockers

Wikia is not accessible if you've made further modifications. Remove the custom ad blocker rule(s) and the page will load as expected.