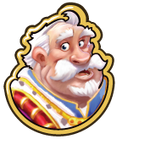 "We must build the Griffin Nest, but... do it carefully! If a baby Griffin's sense of decor is offended, he may eat everyone in the Kingdom."
"Zen and the Art of Nest Design" is quest 7 of 10 in the Eggstraordinary Evidence story line. You get it from The Duke after completing "Hear Me Roar" quest.
Tasks
Build a Griffin Nest for the Giant Egg.

Click on the Giant Egg to build a Griffin Nest for it.

Have 4 Design Plans on interior design and feng shui. Griffin are all about Nest flow.

Ask Friends for Design Plans. You can also get this from fishing.

Have 15 Cow Hide. WHen it comes to furniture, Griffins prefer leather.

Get Cow Hide by feeding Adult Cows.
Reward
"I have to say, you have an eye for Griffin Nest design!"
For completing this quest you will get

1,750 Coins,

35 XP and 1 Hyper Craft. You can then proceed to the Holy Smokes! quest.

X has taken up interior design...
...and they have quite an eye for it.
Practice your own feng shui by placing this attractive Trough.
Gallery
Ad blocker interference detected!
Wikia is a free-to-use site that makes money from advertising. We have a modified experience for viewers using ad blockers

Wikia is not accessible if you've made further modifications. Remove the custom ad blocker rule(s) and the page will load as expected.